Artist Name: Jenny Schu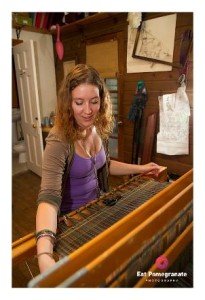 Legal Name: Jennifer Schumaker
Bachelor of Fine Arts Degree from the University of Michigan
School of Art and Design, 2004
Currently showing at 4 galleries, available to teach workshops in beadweaving and give programs on my work.
Jenny is the Michigan Rep for the Handweavers Guild of America, a member of the Michigan League of Handweavers, and a Juror and member for the Ann Arbor Fiberarts Guild.
My artwork can currently be found at:
Lansing Art Gallery
119 S. Washington Square, Lansing MI
Angelwood Gallery
24195 Front St, Grand Rapids, OH
Gallery On 5th
109 5th St. Calumet, MI
Crooked Tree Arts Center
Petoskey/Traverse City, MI
If you're looking for something specific (or that you saw on my social media or blog) please e-mail me directly.
If you're shopping for yourself or a gift, e-mail me with the type of item you'd like, color, price range. I am happy to try to work with you with what you are looking for from my current stock or to make something special.